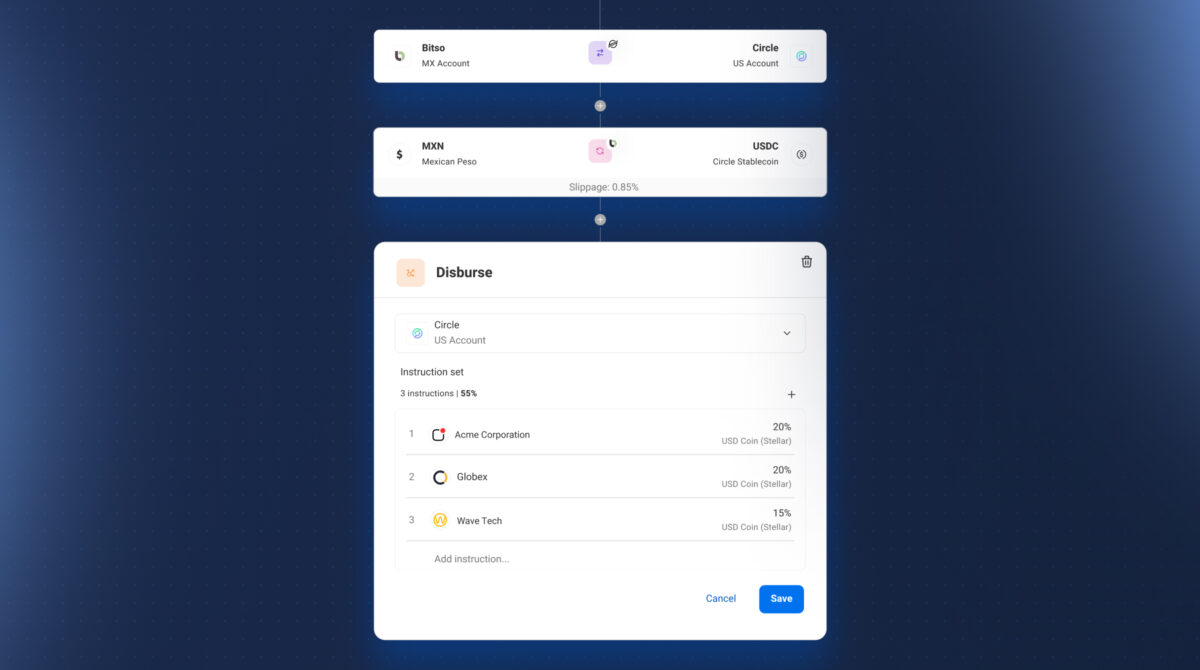 Fireblocks is proud to announce the latest enhancement to our Payments Engine – the Dynamic Payment Flow Builder. The new point-and-click interface enables businesses to configure custom payment flows to suit their use case, or leverage our pre-built cross-border, merchant settlement, and payout flows to orchestrate instant fiat and stablecoin settlements. Best of all, no coding is involved, so operations teams without engineering resources are empowered to utilize this feature easily.
In a recent survey conducted by Fireblocks and Payments Dive, we found that 80% of banks and payment service providers have a production-ready system or a proof-of-concept (POC) underway for digital asset payments, and for good reason. Blockchain-based payment rails enable businesses to unlock 24/7/365 settlement, mitigating the limited operating hours and complexities of the traditional financial system. 
However, building new payment services with digital assets can introduce its own set of challenges. Businesses need to connect with multiple providers to move between fiat and blockchain rails, secure transfers between counterparties, custody tokens, and manually orchestrate these flows. These new payment flows also have to be integrated into a system that is intuitive for treasury and operations teams to use daily. 
That's why we built the Fireblocks Payments Engine, which allows businesses to accept, orchestrate, and settle payments across any blockchain and geography. With a single platform, PSPs like Worldpay have used the Payments Engine to expand into new markets offering instant settlement with stablecoins and deliver value-added services to existing merchants. And now, we've added the Dynamic Payment Flow Builder to further simplify and remove barriers to the creation of payment flows.
How the Dynamic Payment Flow Builder works
Operations teams can now create custom payment flow templates with their desired settlement instructions and execute them with one click, using the new no-code tools. Once a flow has been implemented, the Payments Engine automates the entire payment flow, eliminating the operational cost of building multi-step flows, orchestrating transfers between on/off ramps, executing daily settlements, and reconciling them.
Instant fiat-to-stablecoin conversion
Connect to on/off-ramps easily to convert between fiat currency and crypto, including FX.
Automate digital asset transfers


Transfer assets based on triggers and conditions across different wallets and connected providers.

Distribute batch payments with a single flow


Create batch payouts to clients, merchants, and suppliers in any currency and easily reconcile using our built-in tools.

Monitor every payment flow with real-time visibility
With real-time settlement monitoring, businesses can gain complete visibility and predictability into settlements with fee calculations, time estimations, and FX rates. The Payments Engine also provides a holistic view into all your digital asset payments, allowing you to manage flows, track payments, and generate detailed reconciliation reports from a single dashboard.
Whether you're looking to create payouts to gig economy workers, settle faster with merchants, or build new ways to accept payments, the Dynamic Payment Flow Builder makes it even simpler and faster for businesses to build new services with digital assets.
---
Learn more about the Fireblocks Payments Engine, or request a demo to speak with a Fireblocks Payments expert.